Impact Lab, 23 – 30 April 2018, Viljandi, Estonia, 2018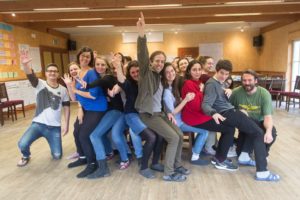 It was a great experience for Vasilis Hortomaris, (volunteer from PRAXIS) who was able to participate in an international working and capacity-building meeting for youth organizations
interested in long-term co-operation with a focus on quality and strategic impact, in Viljandi County in the centre of Estonia.
In the late of April the weather was still cold but the spring breeze was present as well in this Baltic country.
The hosting organization was Noored Uhiskonna Heaks.
There were 28 participants in the seminar from 17 countries that represented 22 institutions. Trainers discussed various issues about realities of youths, quality, sustainability of NGO, youth work, erasmus+ and other opportunities, in addition there were a NGO fair that followed up by a visual network of them.
After the intense 3 first days, the "impact lab family" had the opportunity to visit youth local centres and the town of viljandi which is next to Lake Viljandi jarv. The ruins of the Teutonic order castle lay in the highest point of the town, which is an attractive point for tourists.
The seminar continued after that short tour with more interesting topics such as matching of partners for long term impact, project development and support, followed up with consultation groups, presentation of projects and plans for the future.
Apart of all these activities, it was beneficial and fruitful for the participants the fact that through that process it was able to strengthen the relations between the organizations and to attract future partners for various projects.
Obviously, the seminar was beneficial for all the participants in various ways such as increase of cultural diversity awareness, working in groups, comprehension of quality assessment tools and other activities that helped them to improve their skills in various fields.
Moreover, it is also clear that young people have the opportunity to travel and to participate in such kind of projects in order to gain experiences of these multicultural events and to improve their skills and qualities as well.
So stay tuned with Praxis and next time grab the chance…